Mitchell OEM Network Solutions
Mazda Collision Network
Dealers and Collision Repairers Dedicated to Properly and Safely Restoring Mazda Vehicles

Mazda's commitment to excellence is reflected in every customer encounter, including collision repair.
With the Mazda Collision Network, vehicle owners have confidence knowing that their automobiles are restored to the manufacturer's high standards. And repair facilities, like yours, have the training, equipment and OEM procedures needed to exceed customer expectations.
Why Join?
As a Mazda Collision Network member, you'll enjoy the:
Competitive advantage that comes from meeting Mazda's leading industry collision repair standards
Opportunity to deliver the experience your customers expect
Use of integrated estimating and repair solutions designed to streamline your daily operations
Time-saving, category-level access to Mazda repair procedures as the estimate is written
Documentation to provide to key stakeholders, including insurers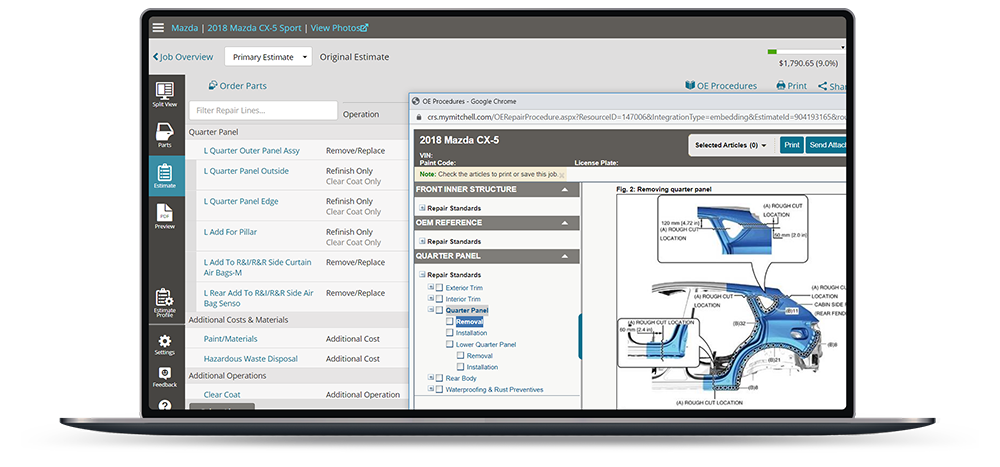 Network Standards
Mazda has selected Mitchell to manage program enrollment, monitor key performance indicators (KPIs) and perform site audits based on:
Designated tools and equipment
Utilization of Mazda repair procedures
I-CAR Gold Class recognition
Submission of repair information
Use of Mitchell Cloud Estimating
Performing pre-scans/calibrations/post-scans on all vehicles
Compliance audits
Customer Satisfaction Index scores
Get Started Today
U.S. dealers, MSOs and independent repair facilities are invited to apply. To get started, please review the:
The Mazda Collision Network application will require pictures of the items highlighted in the Core Requirements List and may take up to an hour to complete.
Questions? Please Complete the Form