Static Calibration, Dynamic Calibration & Collision Repair Scanning
Mitchell Diagnostics Solutions
Mitchell Diagnostics Solutions can help you reduce cycle time, enhance customer satisfaction and generate additional revenue by performing diagnostic scanning and ADAS calibrations at your shop... instead of a sublet.
Watch Live Demo
Diagnostic Scanning & ADAS Calibration
Integrated with Mitchell Cloud Estimating and many of our other cloud-based repair solutions, Mitchell Diagnostics can assist you in delivering proper and safe vehicle repairs.
Streamline Your Workflow with Diagnostic Scanning & In-House Calibrations
By integrating Mitchell Cloud Estimating with Mitchell Diagnostics Solutions, Fix Auto Temecula now performs ADAS calibrations in-house—reducing cycle time and increasing customer satisfaction.
Diagnostic Scanning Devices
Designed for Your Unique Needs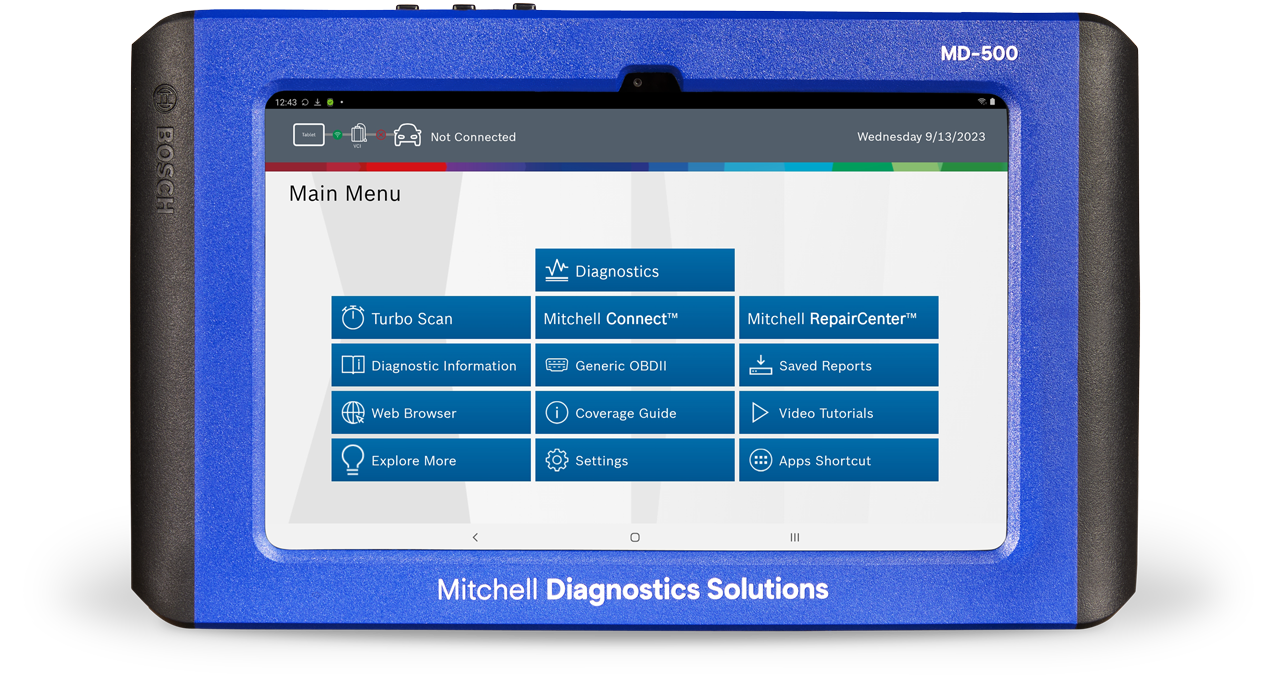 MD-500
An All-in-One Solution for Diagnostic Scanning, Calibration & Estimating
Static and Dynamic ADAS Calibrations with no transaction fees
Ability to access multiple Mitchell Cloud Solutions including Mitchell Connect, Mitchell Cloud Estimating, Mitchell TechAdvisor and ShopPack for Mitchell Cloud
Google Play Store integration; Extended battery life (14 hours); Camera: Front: 5MP, back 8MP; Wireless printing; 1.8 ghz processor; and multipurpose charging dock station.
Learn More
MD-OE22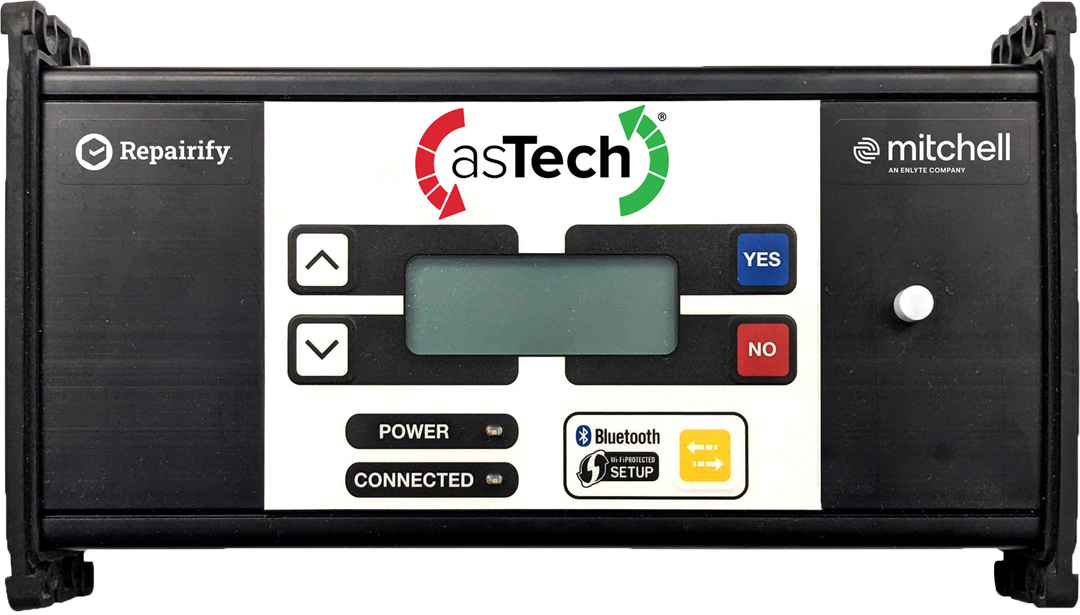 Easily Complete OEM Diagnostic Scans and Centralize Documentation
The MD-OE22 makes it easy to perform proprietary OEM scanning and programming on asTech-powered diagnostic tools while accessing scan reports, invoices and a full suite of repair management technologies from within the Mitchell platform.
Complete OEM scanning services on asTech's patented remote diagnostic devices
Connect diagnostic information to valuable repair advice from ASE- and I-CAR certified technicians
Centralize document management and distribution on the Mitchell platform
Provide consistent, easy-to-understand repair documentation
Satisfy requirements from all major OEMs, including the Nissan and Infiniti Collision Repair Network
Learn More
MD-OEM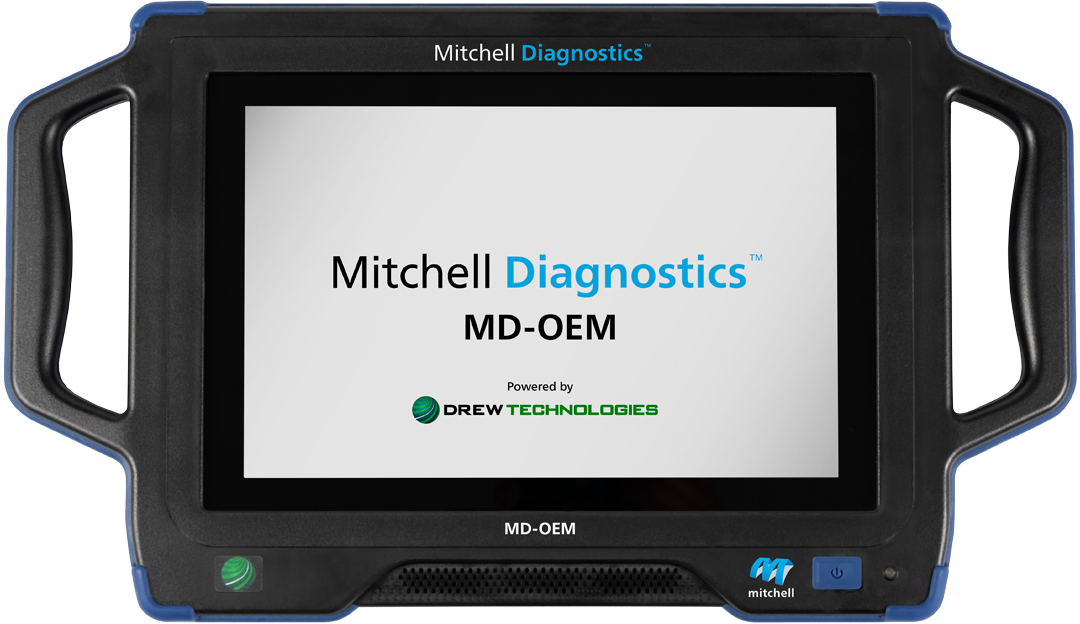 Perform OEM Proprietary Scans & Reprogramming
The MD-OEM is powered by OPUS IVS and designed to boost your facility's repair capabilities.
Access to comprehensive remote services
PDF diagnostic scan reports linked directly to Mitchell Connect
Original OE reports and enhanced OEM vehicle coverage
Requirements met for OE scans from American Honda ProFirst Certified Network
Learn More
MD-TS21
Simple, Quick & Precise ADAS Calibrations
The MD-TS21 and MD-500 incorporate Bosch's best-in-class vehicle coverage and patented technology—allowing you to quickly and precisely calibrate front- and rear-facing cameras, surround-view, blind-spot monitors and radar sensors for popular vehicle makes and models—without using expensive sublets!
Intuitive, gamified user-interface to reduce the risk of errors
Guided lasers to replace plumb bobs, tape measures and mirrors
Simple set up in under 12 minutes, even for newer users
Integrated storage for ease of access to the proper OEM target
World-class Bosch technical support
Using our tools for static ADAS calibrations, you can:
Calibrate vehicle camera and radar systems
Auto-detect the distance between targets and the vehicle
Leverage normalized procedures across OEMs
Receive expert training
Learn More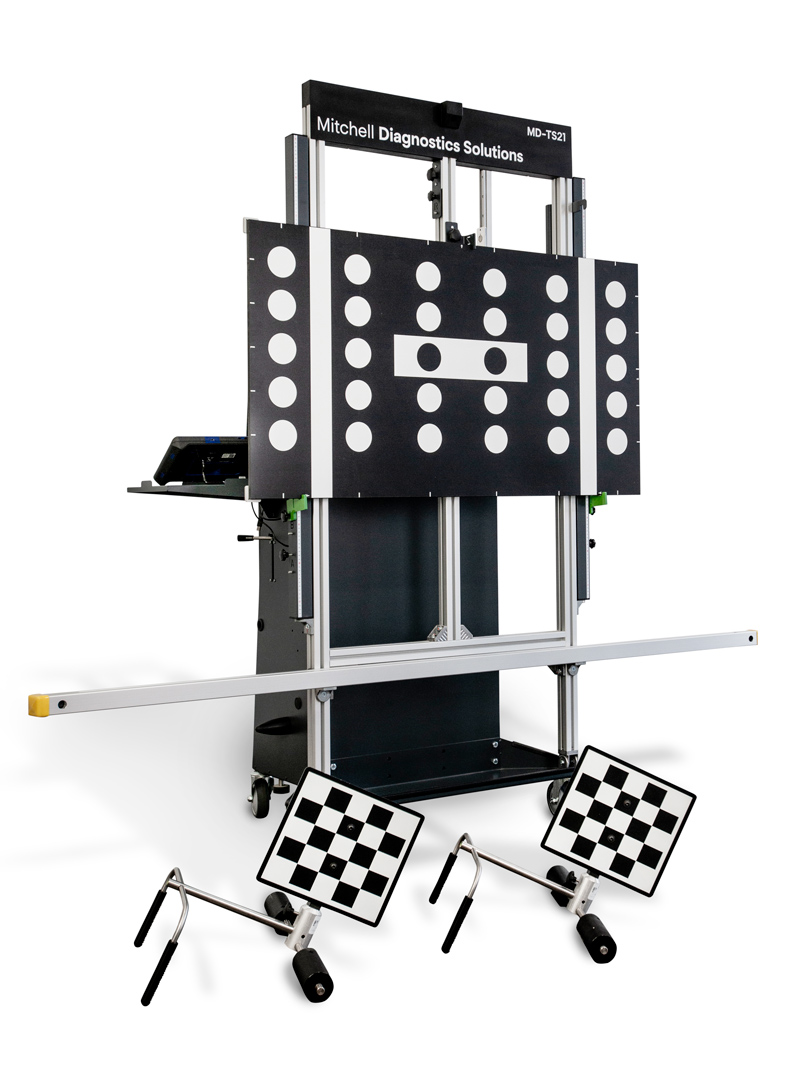 Discover how easy it can be to do all your ADAS calibrations right in your shop.
No more subletting. No more added cycle time.
See What Our Customers Are Saying About Bringing Calibrations In‑House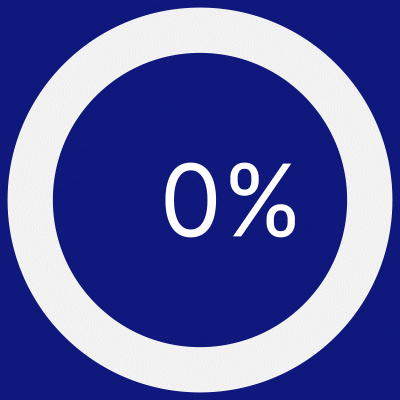 73% of MD-TS21 customers say that the target system is easy to use.
Top 10 Reasons to Select Mitchell Diagnostics
Modern vehicles are complex so your technicians need collision repair scanning and calibration solutions that can keep up. Mitchell's diagnostic tools will enhance daily output at your repair facility. Here's how.
Designed for Repairers

: Take advantage of the first diagnostic scanner system specifically designed for the automotive collision repair market.
 

Easy-to-Use:

Use Mitchell Diagnostics to complete and document the diagnostic process quickly and start your repair work sooner.
 

Streamlined Repair Process:

Simplify the collision repair process with a best-in-class solution powered by Bosch.
 

Integration with OEM Repair Procedures:

Save time by linking directly to the associated OEM repair procedure from the DTC on your scan report (available add-on).
 

Claims Management Made Easy:

Improve your claims management workflow with a superior file documentation system.
 

Industry-Leading Vehicle Coverage:

Take advantage of extensive vehicle coverage—including Domestic, Asian and European OEMs—provided by Bosch.
Access to FCA Secure Gateway Vehicles:

Scan, clear codes and calibrate vehicles such as Jeep Wrangler and Dodge Ram with the MD-500, which provides FCA-approved access to Secure Gateway vehicle networks via optional AutoAuth registration.
 

Document Management:

Connect diagnostic data to your collision repair and claims management system, whether you use Mitchell solutions or those of another information provider.
 

Lifetime Warranty:

Receive a limited lifetime hardware warranty with a continuing subscription to Mitchell Diagnostics. Keep your facility's software system updated automatically while benefiting from the latest vehicle coverage and repair enhancements.
 

Comprehensive PDF Output:

Bypass lengthy and hard to understand industry-standard collision repair scanning and calibration reports. With Mitchell Diagnostics, your technicians will enjoy clear, standardized PDFs with concise reporting of essential information delivered in a practical format.
Contact Us for Coverage Details and Demos
Mitchell Diagnostics Solutions