Mitchell OEM Network Solutions
General Motors Canada Collision Repair Network
A Network of GM Dealers and Collision Repairers That Are Focused on Proper and Safe Repairs

Unlike other certified networks, the GM Collision Repair Network is a comprehensive program that uses ongoing evaluation of the necessary training, equipment and repair procedures used to repair today's increasingly complex GM vehicles.
GM Canada Collision Repair Network Benefits
Recognition as a facility that meets or exceeds GM collision repair requirements—giving your customers peace of mind
Access to an engaged network of collision facilities that are focused on proper and safe repair of all GM vehicles
Access to integrated estimating and repair solutions that streamline your workflow while helping to ensure network requirements
Time-saving access to in-line, integrated repair procedures—no more time searching for procedure documentation
Cloud-based documentation available to all stakeholders—including insurers—to support the correct repair process
Mitchell is responsible for managing enrollment and reporting capabilities as it relates to the program KPIs and site audits which will include:
Utilization of GM Repair Procedures
Required Pro-Level 2 Technician I-CAR Training
Submitting Repair Information
Pre-Scan / Calibration / Post Scan on All Vehicles
Compliance Audits
To get started, review the Core Requirements List and FAQs to prepare your facility and technicians for the program. Please be aware that the application can take up to an hour to complete and will require pictures of all items listed on the Core Requirements List.
Access the French versions of these documents below.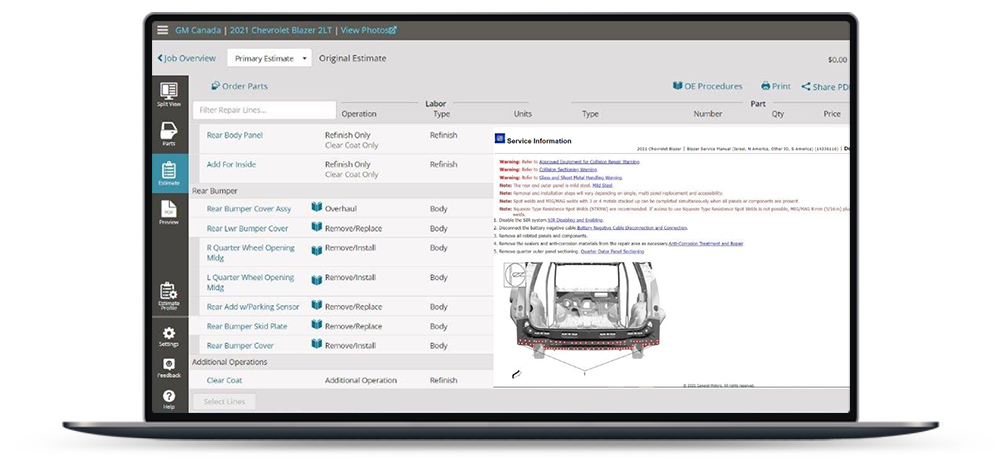 Questions? Please Complete the Form