Pharmacy Benefit Management Solutions & Software
Mitchell Pharmacy Solutions
Mitchell Pharmacy Solutions delivers the most complete pharmacy benefit management (PBM) solutions to the workers' comp and auto casualty industries. Featuring expert clinical programs, innovative technology and incredible service, Mitchell Pharmacy Solutions delivers better outcomes for your program and your claimants.
866.549.1552
Contact Us
Creating Connections
The Mitchell Pharmacy Solutions team is dedicated to empowering our customers with the right tools to build a successful pharmacy program. Learn more from our team about their passion for the industry and their commitment to our customers.
The Industry's Most Complete PBM Solution
Dedicated Service
Dedicated Account Management
24/7 Customer Service Team
Detailed Reporting and Program Insights
Ongoing Thought Leadership, Training & CEU Programs
Clinical Expertise
Dedicated Pharmacist Oversight
Customized Formulary Design and Management
Automated Monitoring and Risk Scoring
Clinical Management and Intervention Services 
RightRx, Opioid Management Program
Robust Network
71,000 Pharmacies Nationwide
First Fill Capabilities Without a Card
Point-of-sale and Out-of-network Controls
In-house Mail Order Pharmacy
Integrated Technology
Innovative PBM Web Platform
Pre-built integration with Bill Review, Clinical Services, & Claims Technologies
Custom Workflow Management
Electronic Billing
Data Analytics & Reporting
National Compliance
Monthly and Break Regulatory Updates
Dedicated Team of Legislative, Regulatory and Compliance Experts
Consulting Personalized to Your Program
The PBM Solution Built for Your Program
Mitchell ScriptAdvisor leverages technology and industry expertise to connect the ENTIRE claim. Through an integrated approach with bill review and medical management, ScriptAdvisor gives you unprecedented visibility into the claim. This visibility allows for better insights, decision making and outcomes for you and those you serve.
ScriptAdvisor has a robust network of nationwide pharmacies, including an in-house mail order pharmacy and specialty networks. Our experienced team delivers a comprehensive clinical program that employs point-of-sale controls and clinical management before and during the claim, including custom formulary design. Our flexible solution allows you to customize your program down to the claimant level and even manage how we communicate with your team.
ScriptAdvisor also features cutting-edge risk management that monitors and connects your team to integrated solutions that keep your claimants safe and on the road to recovery.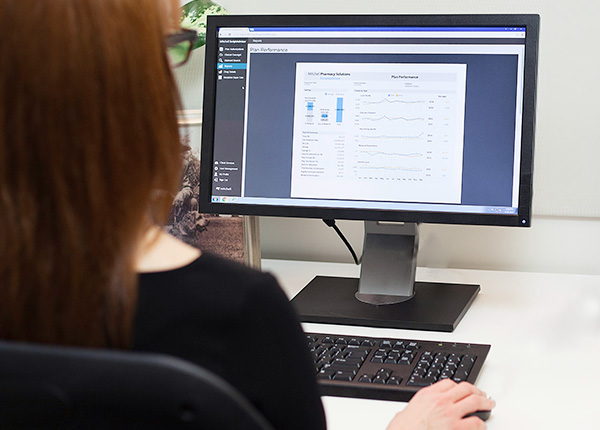 The Power of Connection
Risk alerts, streamlined workflows and lower total cost of ownership are just a few of the benefits of Mitchell technology.The ScriptAdvisor web platform delivers solutions for daily engagement and management, including built-in and custom reporting to suit your organization's business needs. The platform also connects with solutions across the claims ecosystem, from bill review to clinical management to claims systems, for a holistic view of your claim data.
Your program success begins with streamlined implementation and is followed by dedicated account management. Our team works directly with you to ensure you have the insights you need to help your program continue to thrive.
Your team and claimants are supported by our Customer Assistance Center where they can connect 24/7 with workers' comp and auto casualty experts.
In business I have never had more eager, friendly, and happy employees willing to help, no matter what the problem is—your employees do it all!!! I know that I can call Mitchell ScriptAdvisor & the problem I thought I had, isn't a problem, they solve everything. Thank you all for your help & kindness.
ScriptAdvisor Customer, Adjuster
Learn More
Navigate Next Now
Mitchell Pharmacy Solutions delivers the most complete PBM solution so that you, your team and your program can navigate next with success. What's next for you?
For patient inquiries, please call 866.335.4526.
Pharmacy Locator