In late 2018, three of the largest auto insurers in the United States reported decreased frequency and increased severity in third quarter auto claims.
Allstate's gross auto property damage frequency dropped 2.7 percent, and severity spiked 7.7 percent.1
Geico's auto claims fell 2 to 3 percent, and collision severity rose 4 to 6 percent when compared to 2017.1
The Rise and Fall of Frequency
After a year-over-year increase from 2013–2017, the Insurance Information Institute identified an overall weakening trend of the collision paid claim frequency rate in 2018. At the same time, there has been a lessening rate of miles driven in each succeeding year since 2015. The institute noticed "a strong correlation between vehicle-miles traveled, on the one hand, and the collision paid claim frequency rate."2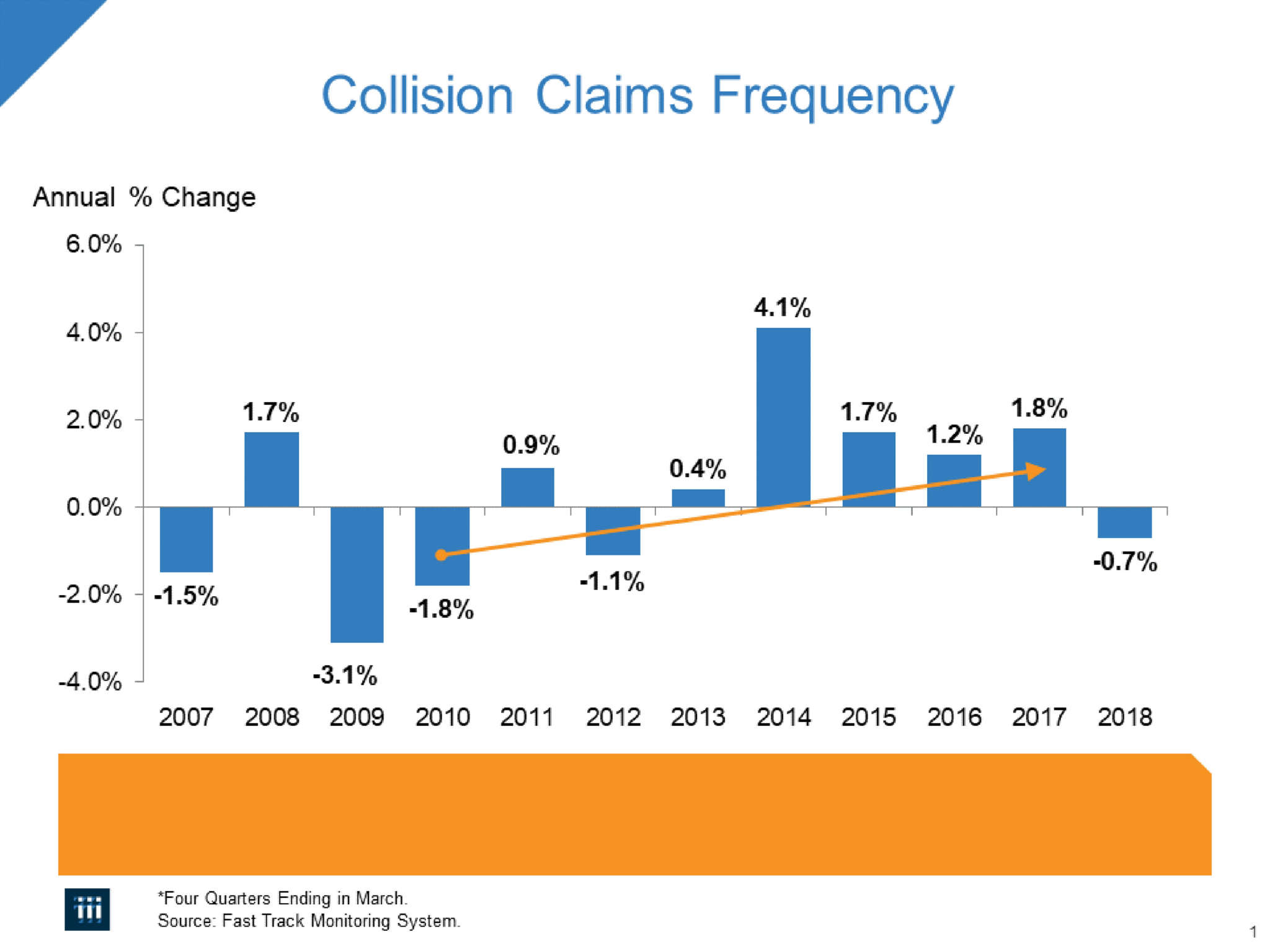 Allstate personal lines president, Glenn Shapiro, explains the frequency results as "Miles driven trends were one consideration" along with automobile improvements and "There's more lane departure warning and blind spot warning…Some of those things have a favorable impact."1
Safer and More Fuel Efficient Cars, Costlier Collisions
Collision claims frequency has the potential to decline even further with the widespread adoption of advanced driver-assistance systems (ADAS) in modern cars. The Insurance Institute for Highway Safety (IIHS) estimates as many as 1.9 million total crashes could be prevented or mitigated each year if forward-collision systems were standard on all vehicles.3 However, the average collision repair cost is expected to continue to rise based on new vehicle technology and the projected growth in special materials. At least one ADAS feature is available on nearly 93 percent of new vehicles available in the U.S.4 These components are most commonly found in the areas most prone to collision impacts—the front and rear bumper areas of vehicles. Mitchell analysts looked at the replacement costs of all parts that would typically be damaged in a front-end collision and found that repair costs grew from $1,652 for a 2010 Chevy Malibu to $3,627 for a 2018 Chevy Malibu.
Between 2012 and 2017, estimates written for vehicles with special materials grew from just over 3% to over 19%.
In addition to ADAS, the major U.S. and Japanese auto manufacturers have also started introducing more high-strength steel, aluminum and other special materials to improve vehicle safety and fuel efficiency. A recent Mitchell Industry Trends Report concluded that between 2012 and 2017, estimates written for vehicles with special materials grew from just over 3 percent to over 19 percent. Also, there was an average increase in vehicle repair costs of approximately $458 for vehicles with specialty materials vs. those without, representing a repair severity premium of 15.7 percent for vehicles with special materials.
Other Factors Contributing to Increased Claims Severity
As mentioned previously, it is possible that ADAS technology could reduce the frequency of collisions in the future, but safety features are no replacement for safe drivers. Today's reality is that the U.S. experienced the third straight year of traffic fatalities over 40,000 in 2018, that's 14 percent higher than in 2014.5 One factor often cited as a contributor to this trend is distracted driving. Especially the rise in drivers using their cell phones in riskier ways.6 Angela Guitar, Head of Global Excess Casualty Claims at AXA XL explains that distracted driving is "a growing cause for both increased frequency and severity of claims."7 According to new research by the AAA Foundation for Traffic Safety, there is much work to be done in educating drivers about the proper use of vehicle safety technologies and their limitations. AAA asserts that this "lack of understanding or confusion about the proper function of ADAS technologies can lead to misuse and overreliance on the systems, which could result in a deadly crash."8
Three Ways to Reduce Claims Severity
1. Make Data-driven Decisions
Gathering and analyzing the right data at First Notice of Loss (FNOL) can help indicate the course of a claim and assist with triage to ensure that carriers are handling the claim efficiently. By connecting the claims process to a consumer with a mobile device, claimant's images could provide an enormous amount of information. Perhaps even determining total loss without the expense of towing a vehicle to the shop.
2. Monitor Sensor Feedback
New vehicles average about 60 to 100 sensors in them, the uses of these sensors are moving far from just telling you if your car's systems are functioning correctly. Monitoring driving through sensor feedback in real-time can reduce risk by delivering guidance about external safety hazards or alerting drivers when risky driving patterns are detected.
3. Educate Drivers
Recent research has shown that many drivers are unaware of the safety limitations of their vehicles. For example, nearly 40 percent of drivers incorrectly reported that forward collision warning could apply the brakes in the case of an emergency when the technology is only designed to deliver a warning signal.8 It's important that the automotive industry plays an active role in instructing drivers about the technology which helps improve road safety.