Diagnostic scanning has become a critical first—and last—step in the repair process. While mechanics have long relied on it to identify emission system malfunctions, collision repairers are now more routinely performing pre- and post-scans. Just two years ago, less than 10% of vehicles were scanned.1 Fast forward to Q2 2020 and nearly 50% of vehicles repaired include a charge on the estimate for Diagnostic Trouble Code (DTC) scanning.2 With rapid advancements in vehicle complexity and the prevalence of Advanced Driver Assistance Systems (ADAS)—which can now be found in 92.7% of new U.S. vehicles—diagnostic scanning "will be necessary for a complete and safe repair," according to the Collision Industry Conference. The importance of scanning in proper, safe repair was the primary driver for development of Mitchell Diagnostics in partnership with Bosch. Since its launch three years ago, we've collected data from more than 2 million scans and the DTCs reveal some unique vehicle repair trends.
Luxury Vehicles Produce the Most Fault Codes
Analyzing the number of fault codes produced by each manufacturer shows that luxury manufacturers Mercedes Benz, BMW and Cadillac produce the most fault codes while the Asian automakers—Honda, Mazda and Hyundai—produce the least (Figure 1). This trend does not change when analyzing data from only the newest models (2018-20), most of which come standard with ADAS that were once reserved only for the luxury market (Figure 2). We can infer that the level of interconnectedness and electrical system complexity is greater in vehicles that produce the most codes. And those vehicles typically come from the higher end of the automotive spectrum. Take Mercedes Benz, for example. The average number of fault codes produced rises as we move from the lower cost C-Class (13.59) to the high-end S-Class (20.8) (Figure 3). Additionally, severity increases along the same spectrum with the Mercedes S-Class, which is almost 50% higher, on average, for cost of repairs than the C-Class. It's also 25% longer when it comes to keys-to-keys cycle time (Figure 4).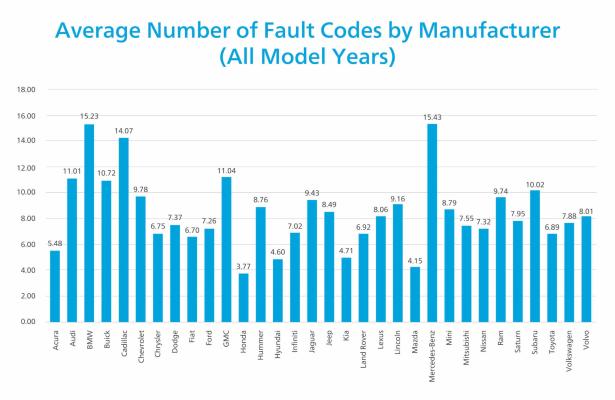 Figure 1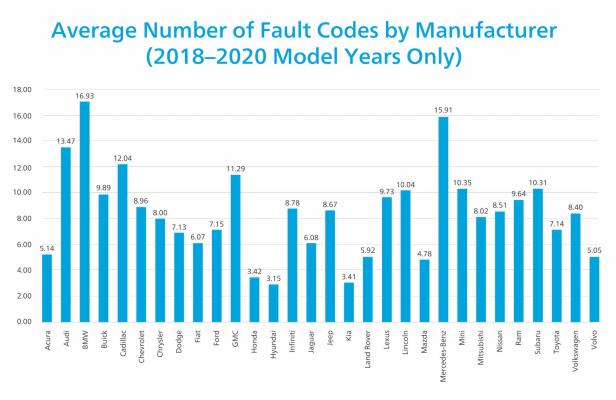 Figure 2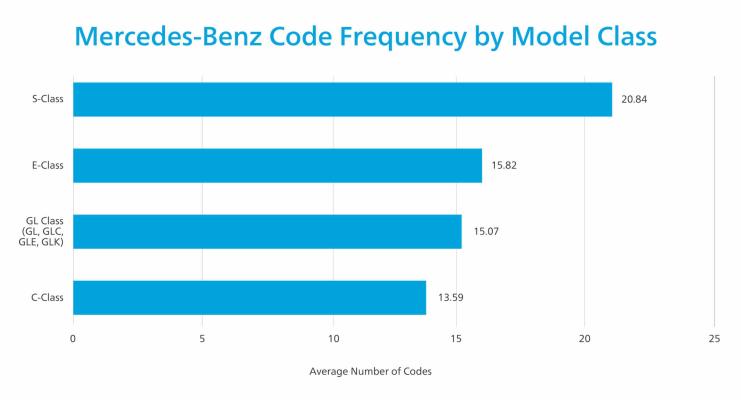 Figure 3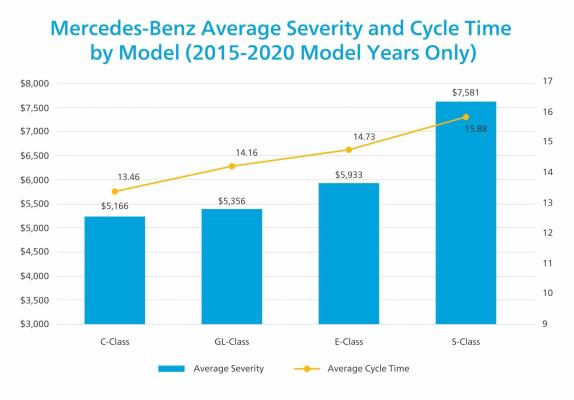 Figure 4
The Newest Vehicles Don't Necessarily Produce More Codes
While the overall average number of fault codes is greater for 2018-20 model years (8.27) than pre-2018 model years (8.08), several manufacturers have actually experienced a decline for their newest vehicles. 2018-20 Chevrolet, Ford, Honda, Hyundai and Kia vehicles all showed declines in the average number of codes identified on diagnostic scans when compared to pre-2018 model year vehicles (Figure 5). This is somewhat surprising as these newer vehicles are more likely to come equipped with ADAS. One possible explanation is that the older vehicles were carrying a number of uncleared codes that were set before the collision occurred. However, the majority of luxury manufacturers—such as Audi, BMW, Lexus and Mercedes Benz—have seen the average number of fault codes increase for their newest vehicles. And it's these vehicles that require calibrations for a variety of ADAS sensors and cameras. Mitchell's data shows that 2018-20 model years receive calibrations at more than double the rate of 2015-17 vehicles (8.51% compared to 4.01%). The newest vehicles are also taking longer to repair with the average keys-to-keys cycle time for 2018-20 drivable vehicles averaging 11.15 days compared to 10.67 days for 2015-17 drivable vehicles. While these differences cannot all be attributed to the increased need for calibration, that certainly plays a role and is evident when examining the average cost of calibrations. For 2018-20 model year vehicles, the average calibration cost is $215.81. That goes down to $187.47 for 2015-17 model years. The gap could be even greater if a collision repair facility is not equipped with the tools and technicians capable of performing calibrations in-house and must, instead, rely on sublet vendors to complete the necessary operations. The desire to reduce cycle time and improve cost effectiveness for insurance carriers as well as profitability for repairers has resulted in Mitchell's continued investment in best-in-class diagnostic tools. These tools allow repairers to perform the work in-house—avoiding unnecessary travel to and from the dealership and achieving a higher profit margin on their labor as opposed to simply marking up the sublet charge.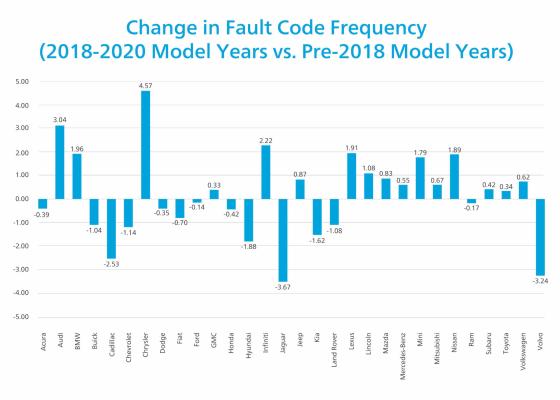 Figure 5
Common Fault Code Types Vary by Make
Due to differences in how OEMs engineer their ADAS systems, the most common fault codes vary significantly by automaker. For example, the most frequent fault code for BMW vehicles is 0xCD0487. This indicates a synchronization error in communicating with the automobile's various modules. If found during a post-scan, it may indicate improper installation or calibration of an ADAS component and require additional labor to resolve. When scanning a Nissan vehicle, though, the most common fault code is C1A16-00 or a blocked radar sensor. A variety of scenarios can cause this code, including collision damage. If found during a post-scan, the error could also indicate excessive coating thickness that is obstructing the radar sensor and causing it to malfunction. This disparity means that collision repairers must be able to quickly and accurately scan a range of vehicles to be sure the correct steps are taken to resolve any ADAS-specific issues. Failing to perform a pre-scan can be compared to not even checking damaged body panels to determine if they should be repaired or replaced. And neglecting to complete a post-scan could be akin to asking a customer to pick up their vehicle without first performing a quality check. Since a particular pattern of damage doesn't always return the same DTC codes every time, performing pre- and post-scans and having direct access to OEM repair procedures can help streamline the repair process, potentially saving technicians hours of research time and helping them correctly restore automobiles to their pre-accident condition. Without diagnostics, insurers and collision repair technicians run the risk of going into a repair blind—possibly missing damage to ADAS components. Pre- and post-scanning not only reveals what is often "hidden" damage, but it also allows repairers to plan for and allocate the resources necessary to efficiently run their business. Insurance carriers can, in turn, better understand the technical needs of their customers' vehicles and have more thorough knowledge of the steps required to facilitate proper, safe repair.
1Based on Mitchell Data.

2Based on Mitchell Data.